Slavery in Contemporary Imagination
Students in this Endeavor program will learn about histories of enslavement to better understand racial justice movements today. We will explore Richmond's history as the second largest slave trading city in the nation as well as the slave rebellions nurtured here as a result. We will connect that history to how and why Richmond has become ground zero for anti-racist activism today, with the toppling of confederate statues along the city's well-known Monument Avenue making national headlines in the summer of 2020.
As part of this class, we will hone our ability to connect the past to the present in order to work toward a more equitable future. We will study contemporary film, art, books, plays, graphic novels, music and more to do this work. We also will explore the city together: walking the downtown Slave Trail as well as Monument Avenue, visiting the Virginia Museum of Fine Arts, and touring the many murals around the city to explore the use of art as activism. We also will meet with present-day activists to hear their visions for racial justice in the city and beyond.
Coursework Overview
The coursework for this Endeavor community involves taking a one-unit course in the fall semester and a half-unit course in the spring semester, both taught by Dr. Ooten. 
| | |
| --- | --- |
| Fall 2021 Semester | Spring 2022 Semester |
| FYS 100: Slavery in Contemporary Imagination (1 unit) | IDST 190: Slavery in Contemporary Imagination Seminar (.5 unit) |
FYS 100 satisfies a general education requirement; students are required to take one first-year seminar (FYS) during each of their first two semesters at Richmond.
IDST 190 is a half-unit project based course part of the Endeavor program.
Specific Course Information
FYS 100: Slavery in Contemporary Imagination

We will not only learn about the historical context of slavery, but we will also explore contemporary films, music, art, literature, and public history sites that grapple with slavery and its meanings in our society today. Examples range from Oscar-winning films like 12 Years a Slave, Black Panther, to Childish Gambino's Grammy-winning song "This is America." Prominent historian Ira Berlin's seminal article, "American Slavery in History and Memory and the Search for Social Justice" will serve as a framework for much our exploration throughout the semester. Berlin asserts that American history cannot be understood without slavery yet it has only been in the 21st century that prominent dialogues about the continuing meaning of slavery have taken place. Berlin ultimately argues that slavery has become "a language, a way to talk about race in a society in which race is difficult to discuss." This course, then, will give students a strong grounding in the history of slavery in the U.S. then focus on having students analyze popular material to better understand this "language."
IDST 190: Slavery in Contemporary Imagination Seminar
The proposed project is a community-engaged mapping project. In this project, students choose sites in the city on which to conduct both primary and secondary research. Once students have chosen their sites, we will collectively take a trip to the archives and also a city tour of the sites. Students will work in small groups to research their sites and the class will eventually compose a collective map of their sites (or they may choose to re-interpret an existing city map or trail, like the Richmond Slave Trail).
Faculty Information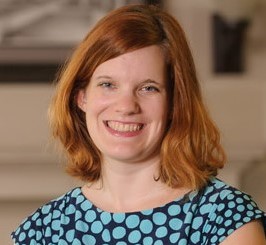 Dr. Melissa Ooten is Associate Director of the WILL Program, Gender Research Specialist, and Affiliated Faculty, WGSS, Westhampton College.
Roadmap Short Course Information
As part of the Endeavor program, you will particiapte in the popular Roadmap to Success pre-orientation program, where you will take a short course led by Dr. Ooten. 
Short Course Description: Social Justice and the City

Who are cities for? All of us – the haves and the have-nots, the powerful and the powerless – experience the city differently. While cities produce the majority of the world's wealth and promise progress and prosperity, they also give rise to extreme forms of poverty and inequality. How do we make sense of these contradictions? How can we build cities that promote 'the good life' for all residents equally? In this short course, we will think critically about the city in order to gain a better understanding of social justice, inequality, and access as they relate to urban space. We will explore different ways of "knowing" the city as we highlight the roles of race, class, gender, sexuality, and resistance in shaping both the physical and social geographies of cities. The city of Richmond will serve as our case study and laboratory as we come to better understand how it embodies both the problems and opportunities inherent in modern cities.